Sep 30, 2019 | J & R Chavez Landscaping
Gardens are an important part of our home. They act many times as our safe havens after a long day or week of work. Sadly, sometimes when we want to renovate our safe haven, we tend to get stuck in a rut, with no ideas that could revitalize your place.
This is where we come in handy. We know how difficult and tedious thinking of new ideas for your garden can be. That is why today we bring you some gorgeous backyard landscape ideas that will give you a garden of everyone's envy!
Fabulous Backyard Landscape Ideas for Your Garden!
Flowerbeds Bring Up the Look of Your Yard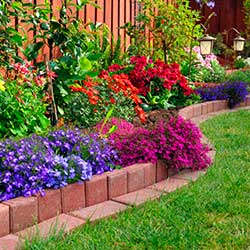 Flowers are great for all types of homes. They add color, fragrance, and life to your home. That is why when it comes to astonishing backyard landscape ideas, you can never go wrong with flowerbeds!
Many homeowners are afraid of making their own flower beds because they have the wrong concept that flowers are delicate and fragile. However, the best part of making a flowerbed is that you have a wide range of flowers that can best match your style!
When it comes to flower beds, you can choose between island beds, border beds, and raised beds. Not only that, you can choose flowers that best suit your place.
Want beautiful flowers that don't need you to water them much? Then maybe your best option are African lilies. Or maybe you are looking for a flower that is not too much of a hassle. Then that case your go-to choice are coneflowers.
As you can see, there are all types of flowers that can fit quite nicely in your garden. That is why you can never go wrong with stunning flower beds for your backyard. They will surely bring the look of garden to a whole new level.
Natural Luxury with Stone Pathways
Build a path of luxury and elegance for you and your guests with the fantastic design of stone lanes! As part of our backyard landscape ideas list, we could not leave behind stone paths.
Stone pathways give a neat and unified look to your yard.
This is because homeowners can choose from different stones or bricks to do the path. If you'd like, you can use any leftover construction material. Want a different look? No problem, since you can also opt for a material that can stand out in your yard as well!
Stone walkways also bring a sense of safety and security to your place. They help show your guests which route is better to get into the house. When walking in a stone lane, people can walk without any fear or worry.
Last but not least, a stone pathway can make small yards look big. It's no wonder since each path feels like an adventure to a new place.
Here at J & R Chavez Landscaping, we give your yard the total makeover it deserves. Our services range from landscaping, lawn care, patios, walkways, and so much more!
Add Water Features for a Magical Effect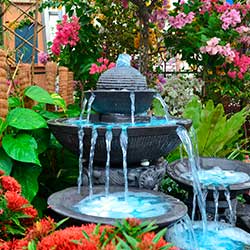 Everybody loves the sound of flowing water since it works as a form of therapy for the soul. That is why one of our backyard landscape ideas revolves around water features.
The best part of water features is the excellent variety there are. Want something small but elegant? Maybe your best shot is a birdbath bubbler. Or perhaps you want something more luxurious. In that case, you can never go wrong with fountains.
Running water features can bring all sorts of wildlife to your home. Your home will be the host of all types of guests, even the smallest one! You can be sure that your backyard will turn into a Garden of Eden.
Count with a Personal Space for Your Inner Bookworm!
Sometimes we just want a private and exclusive place to be from time to time. Whether it is for you to read a book or just to relax and enjoy nature, it is vital to have a spot in which you can do this. And what a better way to do this than with your own personal space in your backyard!
That is why part of our backyard landscape ideas, we've included personal spaces as a must.
The best part of counting with your own personal nook in your backyard is that you can choose to decorate it however you wish! From different colors to using that hammock you bought for the summer heat, you can adorn it the way it would best suit your style!
Last but not least, you can do this idea with any type of backyard, no matter how big or small. With a personal spot in your garden, you'll finally enjoy some fresh air while reading your favorite book!
Host Your Own Barbecues with a Backyard Grill!
Your outdoor space is full of possibilities, and among these is the perk of counting with your own backyard grill!
Just picture yourself this: it's Sunday morning, the sun is shining. You start to get things ready for your guests. Drinks? Ready! Tables? All set! Grill? Hot and prepared! Nothing can make this day any better!
A backyard grill is an essential feature for your home, especially if you count on a family by your side. After all, having a barbecue brings a lot of benefits to your home (not to mention that you'll have an exquisite meal as well!)
For instance, we can assure you that your friends and family will be eager to come over to your barbecue party. Not only that, but also you'll undoubtedly be saving yourself on energy bills too!