Jun 18, 2020 | J & R Chavez Landscaping
If you feel like something is missing from your patio, then you need to read this blog. We'll discuss 5 types of concrete finishes for patios! You'll see that when you choose any of these finishes, your outside space will look outstanding!
Having a concrete patio can help increase your home's beauty and value. So, it is a home improvement project we recommend doing. It doesn't matter if you have a big or small patio, you can add concrete to bring it to a whole new level!
Upgrade your outside space by following any of these concrete finishing techniques! As a result, your patio will become your new favorite place in your entire house!
Read About These 5 Types of Concrete Finishes for Patios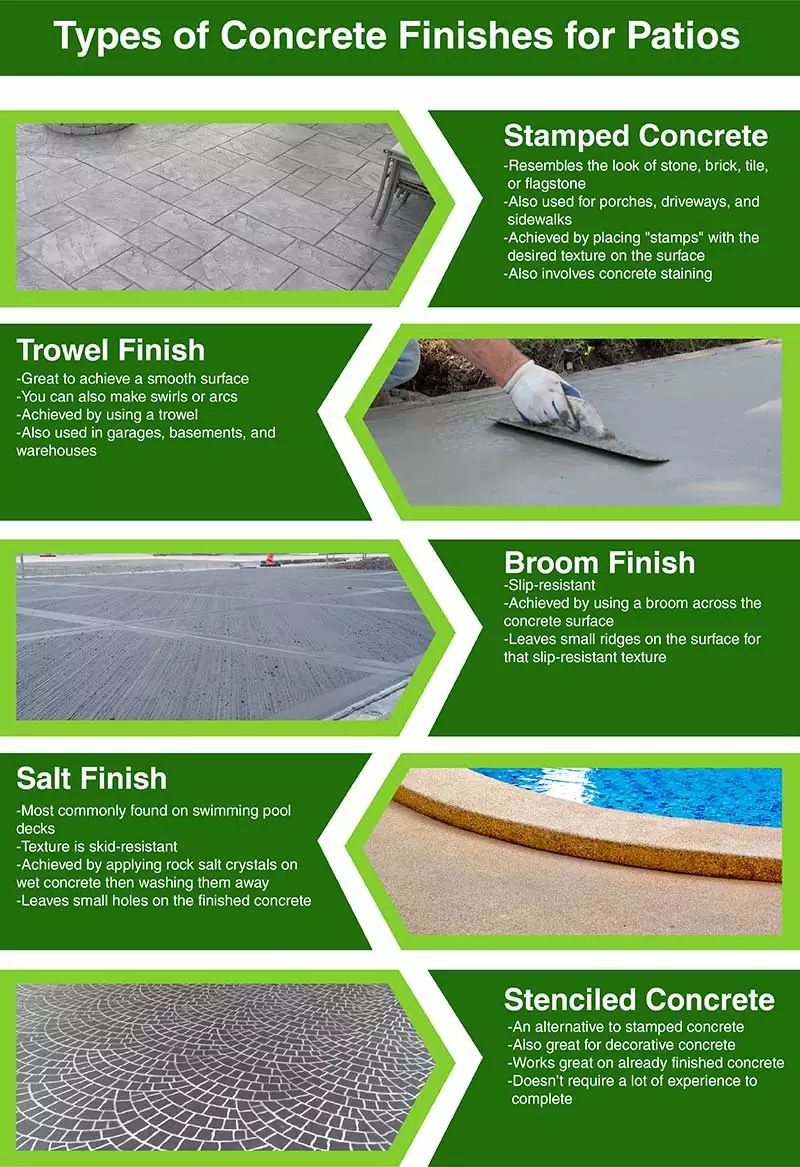 Before we begin talking about the types of concrete finish, we must discuss concrete first. It is a very versatile material, so that means you can make it look however you want to. As a result, you can have the patio of your dreams by working with concrete!
You can modify concrete into any finish, shape, or size with different tools and techniques. Thus, you can have a smooth surface for your patio or take advantage of textured concrete! Whatever your vision is, you can probably do it with concrete.
These are the 5 types of concrete finishes for patios:
Stamped concrete
Trowel finish
Broom finish
Salt finish
Stenciled concrete
Before you choose the type of finish that you want, you should consider your budget and time, as well as your needs and wants. But, for now, let's start talking about each finish type!
Stamped Concrete: One of the Most Common Types of Finishes
If you wish you could have stone, brick, tile, or flagstone in your yard, then you need stamped concrete. This concrete finishing can be designed to mimic any of these materials.
Stamped concrete is one of the most popular types of finish for patios. Also, it is used for porches, driveways, and sidewalks. So, it is a perfect option for your concrete patio!
This type of concrete finish is achieved by placing "stamps" with the desired texture on the surface of the concrete. It's crucial that you do this before you have cured concrete. If not, then you will not achieve the look that you want.
The way this works is that you take the stamps and place them on the concrete mix once at a time. You will do this until the entire concrete floor is stamped. Then, you can move on to the next step. Stamping also involves staining concrete, which is the process of adding color to the floor.
If you want to personalize your patio, then this is one of the best ways to do it. You can choose the pattern and color that you want for your concrete floor!
Trowel Finish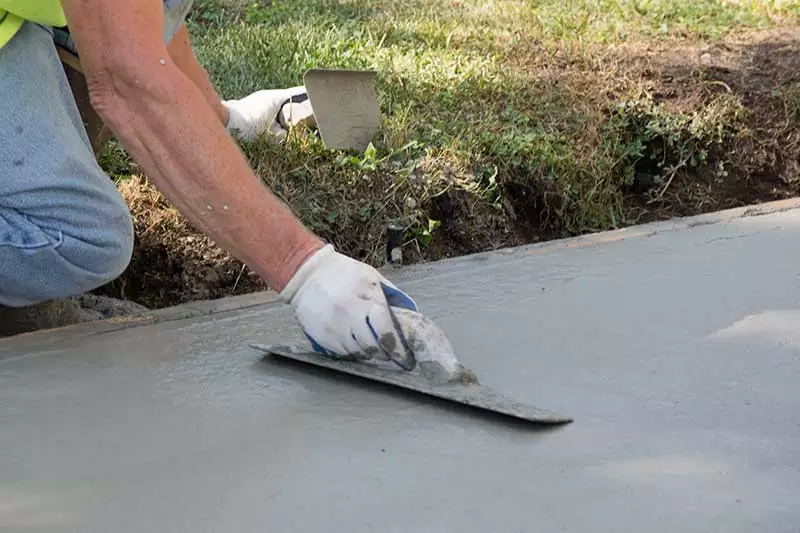 Another very common type of concrete finish is the trowel finish. We recommend this if you want a smooth surface in your patio. This type of finish gets its name from using a trowel to achieve the surface that you want.
After the concrete mix has been applied and leveled, a trowel is used to smooth the surface or to create other kinds of textures. You can make swirls or arcs with the trowel. It all depends on what you want for your concrete patio.
You can smooth the surface of the concrete both manually and mechanically. For residential purposes, it is more common to smooth the surface manually with a hand trowel. However, for commercial and industrial purposes, it is better to do it mechanically with a tool known as power trowel.
This troweled finish also has to be done before you have cured concrete to achieve the best results. You would also find this type of concrete floor on garages, basements, or warehouses.
Broom Finish

If you have kids and they like to run outside, then we recommend applying a broom finish to your concrete. This is because this type of surface is slip-resistant. As the name implies, you would use a broom to achieve this textured concrete finish.
This is done on the top layer of the concrete after it has been troweled. It's important that the surface is smooth so that you can achieve the perfect broom finish.
The way it works is that you take a broom and drag it across the surface, leaving small ridges that create that slip-resistant surface. For this type of finish, you also must do this while the mix is still wet.
If you don't want a slip surface where people can get injured, then you must consider this broom finish.
Salt Finish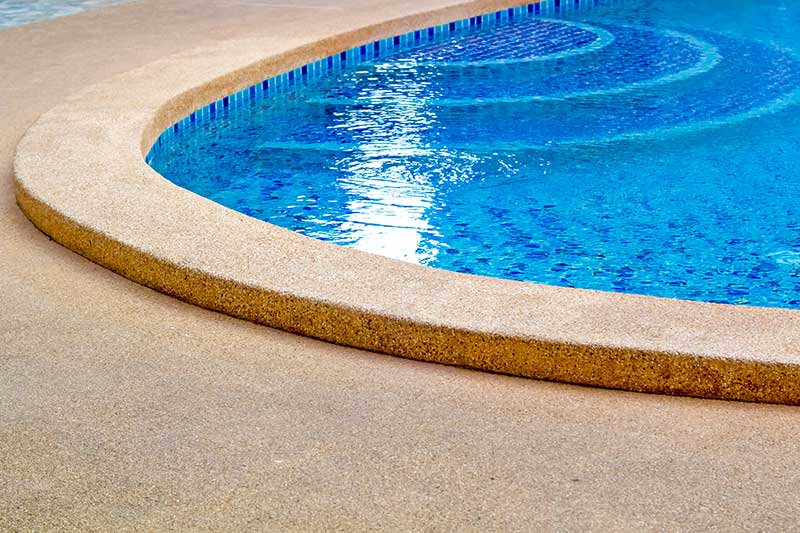 Another way to get decorative concrete is with a salt finish. This is one of the types of concrete finishes for patios that is most common for swimming pool decks. This is because its texture is skid resistant.
You can achieve a salt finish by applying rock salt crystals on the top layer of your wet concrete. Then, you wash them away once the concrete is set. This will leave small holes in the finished concrete.
Use this technique on wet areas where you would want skid resistance and also a decorative look. For a slip and skid-resistant surface, you could also go for an exposed aggregate finish.
Stenciled Concrete for Your Patio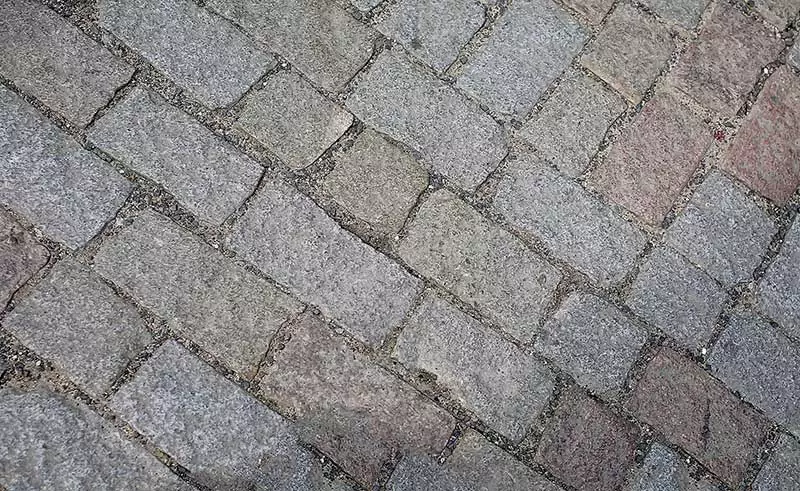 Do you want another option for decorative concrete besides stamping it? Then you should take a look at stenciled concrete. This type of finish can also give your concrete patio the look of real stones.
You can do stenciling when you already have finished concrete. For that reason, many homeowners choose this instead of stamping. One of the other reasons some people prefer this over stamping is that it doesn't require a lot of experience to complete. So, you can do this yourself if you wish to add some beauty to your patio.
Although there are many other techniques, these are the types of concrete finishes for patios that we believe look best. Before choosing one, just take into account the look that you want as well as where in your patio would you want your new concrete surface.